Message
We aim to be a food manufacturer that can provide our customers with impression, satisfaction, and peace of mind.
We would like to express our sincere gratitude for your continued support and patronage.
Our company began its operation as Moriyama Dairy Products Ishioka Factory in the December of 1941, and became independent as Tsukuba Dairy Products Co., Ltd. in June 1951.
In March of 1973, we joined the Shoei Foods Corporation group and began processing nuts in addition to producing dairy products in June of 2000.
We strive to further advance nut-processing technology as well as the dairy-product production technology and the quality-control system that we have acquired since our establishment. We unremittingly pursue consumer peace of mind and safety to deliver inspiration, satisfaction and safety.
We make every effort to contribute to the development of the domestic dairy industry.
For the next 100 years, we will continue to take on the challenge of manufacturing and aim to be a company that spreads its wings around the world.
We would appreciate your continuous understanding and support.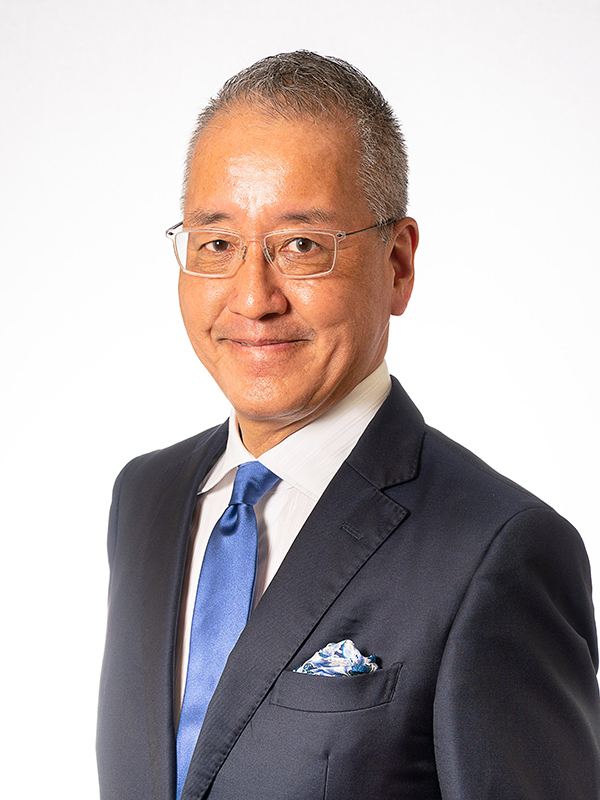 CEO

Company Profile
COMPANY NAME
TSUKUBA DAIRY PRODUCTS CO., LTD.
FOUNDING
December 12, 1941
CAPITAL
247,500,000 yen
NUMBER OF EMPLOYEES
378 (as of April 1, 2022)
CEO
CEO, Hiroyuki Sakai
DESCRIPTION OF MAIN BUSINESS
Production of dairy products/Nut processing
BUSINESS LOCATIONS
Corporate Headquarters, Ishioka Plant
Tamari Plant
SALES OFFICES
Sales Head Office
Sendai Brach Office
Osaka Office
Kyushu Branch Office

We will further refine the product development and manufacturing technologies we have cultivated over the years, and aim to be a company that is loved by our customers and the local community through "monozukuri" (creation/making/production). We will continue to take on the challenge of manufacturing for the next 100 years, and aim to be a company that spreads its wings to the world.
---

Creating Products that inspire consumers
Contribution to Society
Grow together with employees
---

Ensure food safety and security
and earn the absolute trust of customers.
From the customer's perspective,
we will realize new value and creation.
We will always be humble and honest, always have a sense of gratitude, comply with laws, regulations, and social ethics,
and contribute to the development of society.
Corporate Logo
What we put into our logo
The previous logo mark is familiar to our employees as well as to our customers and business partners. We have created a new logo that is an adaptation of the previous one, while maintaining the "our history of 80 years in business" and the brand value of "TSUKUBA DAIRY PRODUCTS" that we have built up over the years.
COMPANY NAME
T.K.B.", which was drawn under the two lines of the previous logo, has been moved out of the circle and changed to "TSUKUBA" so that all people can understand the logo.
Two lines at the foot of the mountain
It represents Lake Kasumigaura, which provides us with the blessings of nature. It also represents our two pledges of "consistent quality control from raw materials to finished products" and "safe and secure manufacturing".
Two mountains
They represent Mt. Tsukuba, which is a symbol of Ibaraki and has been loved by the people of the region since ancient times. They also represent the company's intention to be loved as a company rooted in the community like Mt. Tsukuba. The mountains are connected by a single line, and the image of infinity is expressed with a desire for further development.
Color
The color "red," is the same as one of our core products "Sweetened Condensed Milk", and represent our devotion with "passion" from manufacturing to delivery to our customers.
How to use the logo

For use in Japan
Products and their promotional materials distributed in Japan
Products and their promotional materials distributed outside Japan in exclusive areas where Kanji has a positive impact

For use outside Japan
Products and their promotional materials distributed outside Japan
Products and their promotional materials that may be distributed outside Japan
Company History
| | |
| --- | --- |
| DECEMBER 1941 | Started milk production. |
| SEPTEMER 1945 | Changed to dairy product manufacturing. Started manufacturing powdered milk, butter, condensed milk, other general dairy products, lactic beverage, and juices. |
| SEPTEMBER 1961 | Ishioka Powdered Milk Plant established. |
| DECEMBER 1967 | Tokyo Office established. |
| MAY 1968 | Osaka Office established. |
| FEBRUARY 1973 | Tamari Plant began operation. |
| SEPTEMBER 1979 | Sendai Office established. |
| JANUARY 1982 | Established a mixed-packaging plant for ice cream mix powder and powdered hot chocolate at the Tamari Plant. |
| AUGUST 1982 | Established a powdered-milk production facility and a sequencing butter-making machine to increase production of powdered milk, butter and condensed milk at the Tamari Plant. |
| MARCH 1988 | Established LL plant inside the Tamari Plant. |
| MARCH 1998 | Established a small dryer facility at the Ishioka Plant. |
| MARCH 1998 | Tamari Plant Administrative Building constructed. |
| JUNE 2000 | Nuts plant constructed. |
| MARCH 2004 | Established a second dryer facility at the Tamari Plant. |
| FEBRUARY 2008 | Upgraded concentrating machines at the Ishioka Plant. |
| OCTOBER 2008 | Upgraded aseptic filling machines at the LL plant. |
| MAY 2009 | Acquired ISO9001 certification for all product categories. |
| NOVEMBER 2009 | Upgraded aseptic filling facility at the LL plant. |
| APRIL 2010 | Kyushu Branch Office established. |
| JULY 2012 | Acquired ISO22000/FSSC22000 certifications (Tamari Plant LL line) |
| NOVEMBER 2012 | Acquired ISO22000/FSSC22000 certifications (Tamari Plant dairy product line) |
| APRIL 2013 | Established sales head office in Sotokanda, Chiyoda-ku, Tokyo. |
| JULY2020 | HeadOfficerelocation. |
| OCTOBER 2020 | The expansion work of the drainage facility of Tamari Plant has been completed. |
Office information
Corporate Headquarters
3-1-20, Kitafuchu, Ishioka City, Ibaraki Prefecture 315-0012
Tel: +81-(0)299-24-2111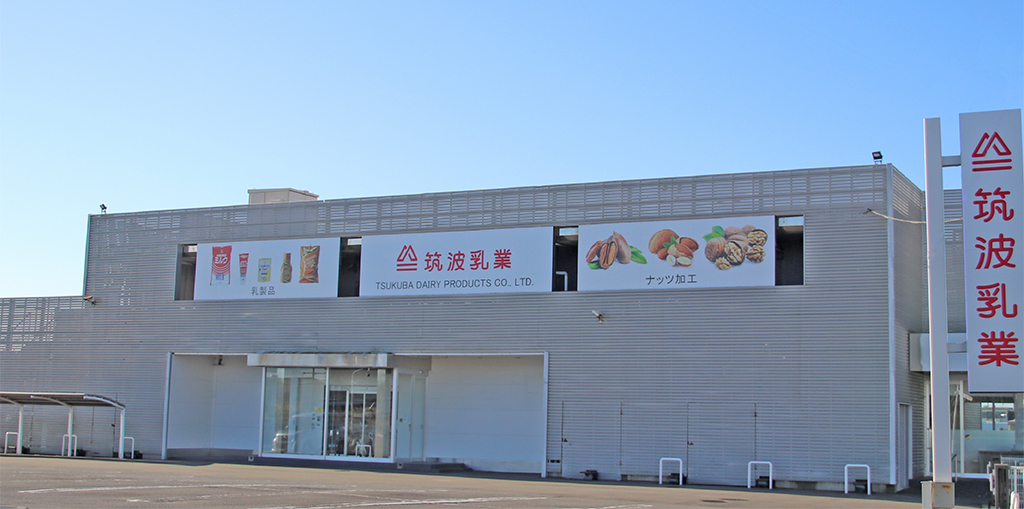 Ishioka Plant
6-1, Izumi-cho, Ishioka City, Ibaraki 315-0025
Tel: +81-(0)299-24-2113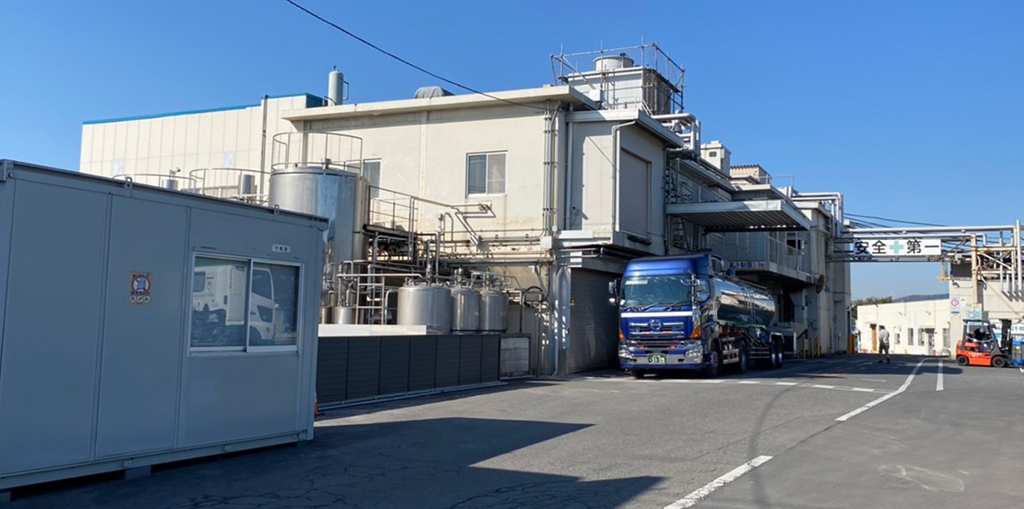 Tamari Plant
2232-1, Kami Tamari, Omitama City, Ibaraki 311-3436
Tel: +81-(0)299-26-3131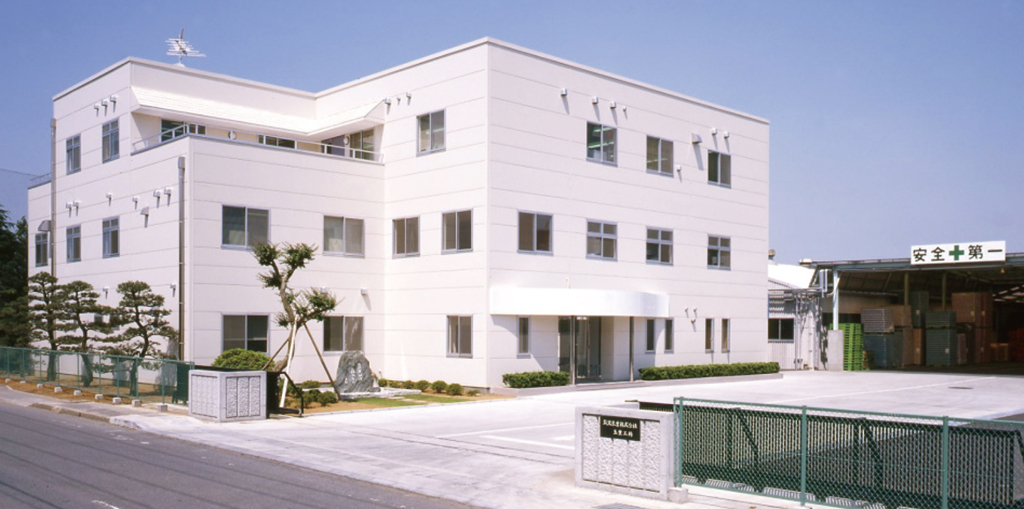 Sales Head Office
Mikuni Building 3F, 6-13-11, Sotokanda, Chiyoda-ku, Tokyo 101-0021
Tel: +81-(0)3-5807-8150
Osaka Office
4-1-6, Nishimiyahara, Yodogawa-ku, Osaka 532-0003
Tel: +81-(0)6-6396-5242
Kyushu Branch Office
5-13-38, Chihaya, Higashi-ku, Fukuoka City, Fukuoka 813-0044
(Under the jurisdiction of the Osaka Office)
Sendai Branch Office
1-6-15 Oroshimachi, Wakabayashi-ku, Sendai City, Miyagi 984-0015
(Under the jurisdiction of the Sales Head Office)